I grew up in Germany's Saarland, which borders the French regions of Lorraine, and the cuisine of the border region has elements o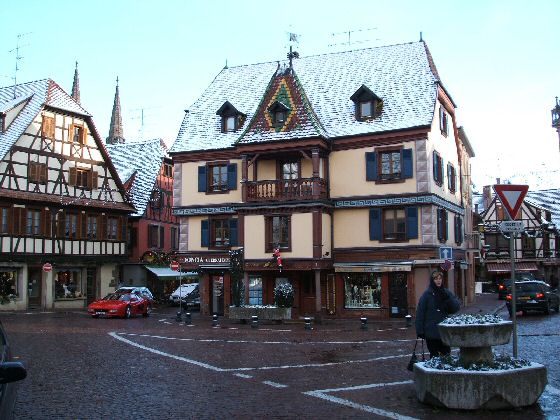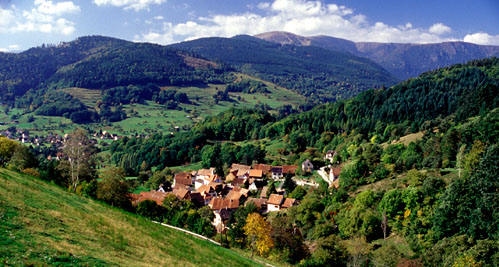 f both cultures. Similarly, neighboring Alsace sits across the Rhine from Germany and the Black Forest), and its cuisines are also very intertwined - you can find regional dishes on both sides of the border. When we were kids, we'd hike over to France for Sunday brunch, and in school, our first foreign language in school was French.
Photocredit for pictures:
www.jowettjupiter.co.uk
(Tour 2006: Obernai, Alsace and Black Forest village)


In the Saarland, and especially in Alsace-Lorraine (or "Elsass-Lothringe
n" in German), Flammkuchen or Tarte Flambee is a very popular item on the menu of restaurants. It is basically a thin-crusted pizza with a quiche-style topping, baked in a very hot oven.
The history is that baking
it was a test for the old wood-burning oven -- if hot enough, then the flames would barely char
the edges while the center comes out perfectly.
..
I had not made this in ages, but today the theme was somewhat FRENCH (I had fish and fennel, so I made bouillabaise) -- which more sophisticated than saying we ate fish soup and pizza! I was also inspired by Kim who writes the blog
Easy French Food and Cuisine
-- she had recently left a message on my cabbage post (which had Choux in the title) -- and she's an American living in France with a great philosophy on food! Hubby suggested I cook something french: so here we are! But alas, Kim does not have a recipe for Tarte Flambee.
My first mistake in tonight's Flammkuchen was to make a yeast pizza dough, and it should have been yeast-free to keep it very thin and crisp. I also learned I shouldn't have been afraid of getting the oven too hot -- it definitely needed to be hotter to make it crisp.
(My track record this week was to burn parts of dinner not only once, but twice -- hubby called last night's attempt at garlic bread "carbon-county toast")
...
Flammkuchen
Good recipe and discussion can be found
here
. The author blogs about German & American food from the perspective of a professional cook. I just stumbled across tonight and really enjoyed -- check it out if you're interested:
BurgersandBratwurst.wordpress.com
-- and she has a search engine too!
pizza dough -- very very thin
bacon
onions, cut in rings
optional: other veggies if desired - tomato, leeks, etc.
eggs
cream
salt, pepper
Fry up the bacon, remove with slotted spoon & set on paper towel. Using either the bacon grease or olive oil and saute onion rings until nicely caramelized. Let cool.
Mix eggs and cream, add salt & pepper.
Roll dough out very thinly and cover with bacon bits and onion rings. Roll up the sides of the dough to help make a wall for the egg topping. Pour egg mixture evenly (not too thick).
Bake in HOT oven 400 - 450F, for 15 minutes or so, keeping an eye on it!
Serve with salad and wine! Voila.