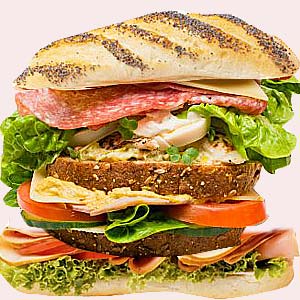 All that good homemade bread, so here are some of the sandwiches we make:
Avocado Sandwich
I grew up on these in South America!
slice of w.w. bread (I also like WASA or Ryevita)
avocado, sliced
salt, pepper
Banana Bliss
Big sister came up with this one, and her siblings love it.
They are very particular about the bread: Absolutely NO white bread or WONDER BREAD allowed!!!
1 slice of REAL bread, baked by MOM or a real bakery
organic peanut butter
honey
banana slices
cinnamon sugar
Smoked Turkey Sandwich
slice of w.w.bread
mayo and/or mustard
left-over smoked turkey
cranberry relish, optional
lettuce, sprouts and or avocado
Eggsalad Sandwich
slice of w.w. bread
egg salad (see recipe at
Alisonslunch
with homemade mayo)
lettuce or sprouts
Oui-oui ha-ha (French Dip -- get it?)
French roll or baguette
garlic butter
roast beef, sliced thinly
Au Jus (thin gravy)
Butter the 2 halves of the rolls & grill them. Generously fill sandwich with roast beef, cut at an angle for better dipping, and serve with individual bowls of hot au jus. For years, our kids thought that the official name really was "oui-oui" -- a name that my husband and his first wife made up -- this was many many years before french fries were temporarily renamed "freedom fries"...
Sausage-burger sandwiches
slices of pumpernickel or other rye bread
butter
swiss cheese
fried sausage, in patties or crumbled
onions, cut in rings
sauerkraut, optional, but really good!
Fry up sausage, set aside, then saute onions. Add sauerkraut if using, making sure it's to drain liquid well. Meanwhile, butter one side of the bread slices. Place on griddle with butter side down, then layer with swiss cheese, onion rings and sausage, topped by second slice of bread with buttered side facing up. Cook until bottom is golden, then turn (carefully) to cook other side. Panini pan works well here!
Panini with Proscuitto and cheese
olive oil
bread slices (ciabatta or sourdough is excellent for this)
cheese (a good melting cheese: pick your favorite, just not soft)
proscuitto, or other ham (cappacola, Schinken, etc)
grilled italian veggies (zuccini, tomato, eggplant) optional
Brush bread with olive oil on one side. Assmble sandwich with oil on outside. Grill in panini pan.